Fancy mice make great pets and are sociable little animals. There may be times where you need to introduce new mice to your group, perhaps you have an older mouse and want her to have friends, or you just wanted more. Whatever the reason, mice should be introduced carefully to increase the success rate of bonding. Generally, it is easiest to introduce female mice to other females, and first-time mice keepers are encouraged to keep girls.
There are many different methods to bonding, but this one works best for me and having kept mice for a number of years, I always rescue more when my group gets smaller so I am never left with a lone mouse. I always chose a time when I am not in a rush and can dedicate a few hours to keep an eye on things. It goes without saying that these things cannot be rushed and some bonds are easy, whilst others take a bit more time.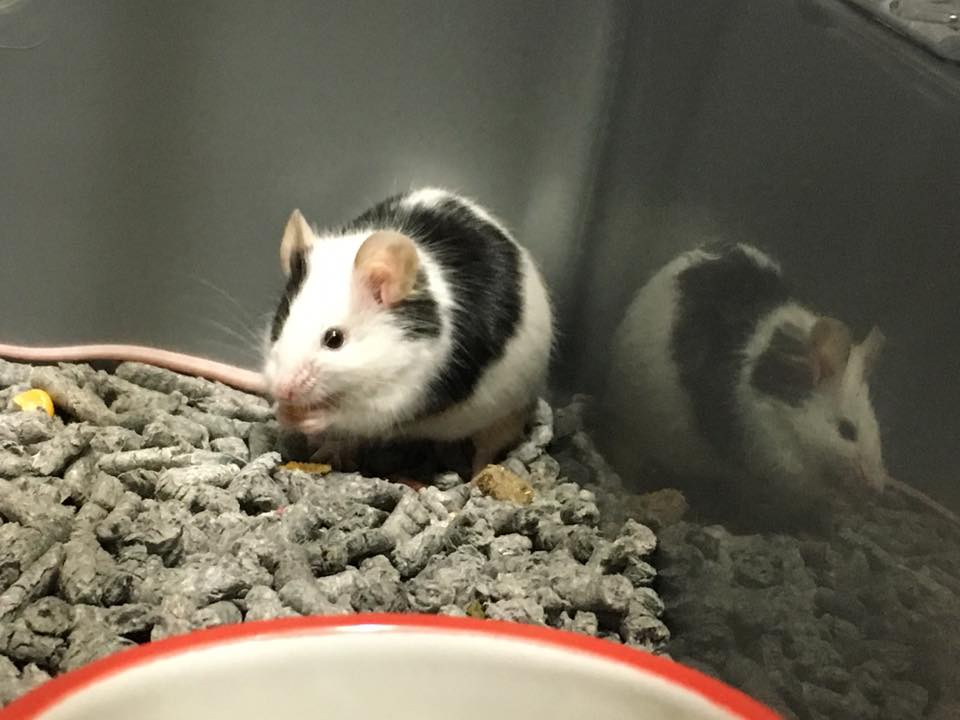 The first step is to ensure the cage is completely clean, so I wash it out with warm water and disinfect the base and the bars. I remove all toys, beds, houses and bowls, wash and disinfect them, and leave them out until the group is fully bonded. This is because my mice seem to favour some toys over others and I don't want anything to smell of them or they could defend it. As I don't want to leave my mice in an empty cage, I collect together lots of cardboard boxes so they have things to hide and play in, but it is all nice and neutral. I never give them any boxes where they could feel trapped and cut small 'escape holes' in the back of them so no mouse is ever cornered. If you are introducing babies to adults, it might be an idea to put small boxes in that only the babies can fit in so they can hide away if they feel it's needed.
Once the cage is ready, I put both groups of mice in a spare cage with newspaper in and let them meet. If I have an established group and a couple of new babies, I will put the babies in the bonding cage first, and then add one adult at a time as to not overwhelm them. Some keepers swear by adding a drop of vanilla essence to the back of each mouse so they all smell the same and it will confuse the scents. They usually sniff each other, and sometimes there will be a bit of squeaking. I leave them together for a while in the bonding cage, but the length of time will depend on how they are reacting to each other. As long as there isn't any fighting or blood, I then move on to the next step, which is to place the new mice in the clean cage. This gives them a bit of time to get their bearings and investigate, before adding one mouse from the established group at a time. Again, there is usually chattering, squeaking or chasing as they work out who is top mouse, but as long as there is no blood, I let them work it out on their own.
If you have a mouse who is picking on the new ones, it is best to give them a time out for 10 minutes to half an hour to let them calm down. It's really important that you remove the bully and not the ones being bullied, otherwise, the bully will think they have won! You may need to do this a couple of times, but they should settle down. I have only had one female mouse that I have struggled to bond other mice with. No matter how carefully I tried to introduce new mice, she would whip and vibrate her tail and then launch into an attack. Luckily I have a neutered male mouse living with her, and they both seem pretty happy with this bond so I have kept them in a pair, separate from the main group so everyone is now living in harmony.
I find mice are happiest in small groups and although it can be quite daunting to introduce mice, it's definitely worth it when you see them interacting with each other. Scuffles can last for a couple of days after they move in together, but it usually calms down after this and it's best to leave them to it unless a mouse is being bullied or blood is being drawn. I will scatter feed them until at least a week after they have gone in together so there isn't any competition over food. I also won't give them any treats as I don't want them to squabble over high-value food at this stage. After this first week, I will give them their cleaned toys back and everything will be back to normal until I fall in love with another mouse who needs help!
If you are still deciding on adopting mice, or already own them but are looking for some tips, have a look at this post on 10 things you need to know before owning mice. 
Have you bonded mice? Let me know in the comments what your experience has been like.